USS Turner Joy Amateur Radio Club
Museum Ship Weekend, May 31 - June 2, 2013
Forth participation was a great success. Attendance was a little light due to some other events happening around the same time, but we still did quite well.
331 contacts in total
29 ships and museums contacted, including

K1USN - Watson Museum
NB6GC - USS Hornet
W5LEX - USS Lexington
K6AA - ST-695 Angels Gate
NJ2BB - USS New Jersey (Can we count a museum ships weekend as a success without this one?)
NI6BB - USS Iowa
KH6BB - USS Missouri
NI4BK - USS North Carolina
W4BPR - USS Alabama
W5V - USS Cairo
NR4DL - USCG Ingham
NE6JP - USS Potomac
WW2IND - USS Indianapolis CA-35 Memorial
W2BII - USS Orleck
W5KID - USS Kidd
KK5W - USS Steward and USS Cavalla
K8F - SS Edmond Fitzgerald Memorial
K8M - SS Daniel J Morrell
W8AGB - USCGC Mackinaw
AC0TX - SS High Flyer Memorial and SS Grandcamp Memorial
K8B - SS Carl D Bradley
N6MSO - USS Lucid
W6RO - RMS Queen Mary
VA3VGC - SS Keewatin
W8CJQ - SS Milwaukee Clipper
N5E - Tall Ship Elissa
NB9QV - USS Cobia
WW2SUB - USS Batfish
NJ6VT - USS Pampanito
Below is the chart we were using as we made ships (original image is 3MB):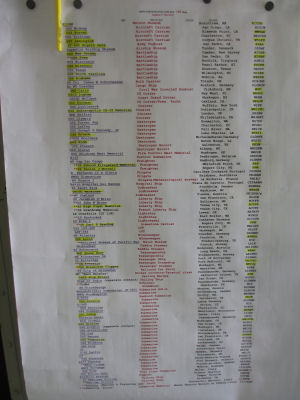 The USS Turner Joy (Charter Member of the Tonkin Gulf Yacht Club) Amateur Radio Club (NS7DD) will operate MUSEUM SHIPS WEEKEND EVENT sponsored by

Talk with the USS Turner Joy operators and many other ships all weekend long.
Watch this site and your emails for more details as we get closer.
In the mean time, check out some of the pics and information from last year.
If after the event, you would like a contact certificate, you can order one below.
Please send $4, return address, and call information for verification. Payment will be accepted as cash, check, or credit via PayPal button below: